From start to finish you will be treated as a valued guest by DTC staff. Our team is knowledgeable, courteous, friendly and eager to make your trip sensational. Every question and every concern is treated with professionalism. Our prompt, informative replies show our gratitude and appreciation for your business. Every guest, following our guidelines, will be fully prepared for the undertaking chosen.
Denali Trekking Company; this is what we deliver:
Development of Key Skills for Wilderness Travel
Training your body to prepare for hiking in Alaska

Understanding food needs for a working body

Understanding clothing needs in the mountains

Learn

what

goes in your pack and

how

it goes in 

Proficiency and confidence in setting up camp

Building a kitchen using terrain advantage

Industry leading No Trace Camping practices

Proper disposal for all forms of waste
Orienteering:
Time and energy saving techniques for traversing wilderness

Understanding mountain weather, recognizing indicators of change

Staying warm and dry above timberline

Wind, rain, dense fog, wildfire smoke, earthquakes; protecting yourself in extremes.
Leadership/Teamwork:
Team player skills development

Leadership. Position and responsibilityI
Sharpened skills locating wildlife; spatial awareness
Finding the right perch

Where to look, the Art of Patience

Wildlife: signs and signatures

Alpine migratory bird ID; nests, eggs & feathers

Flora identification, emphasis on wildflowers

Amplify skills you already have!
Photography:
Macro, to panorama, all day, every day

Sub-arctic light, composing, framing, shooting

Special effects and creating perfect images

Maintenance must-do's

Abundant opportunity for dramatic photos!
Safety:
Behavior in and around aircraft, your lifeline to civilization

Avoiding wildlife encounters

Recognizing potable water

Care for your feet, joints and back, identifying "hot spots", avoiding problems and hazards

Efficiency in use of emergency communication devices, ground-to-air radio and satellite phone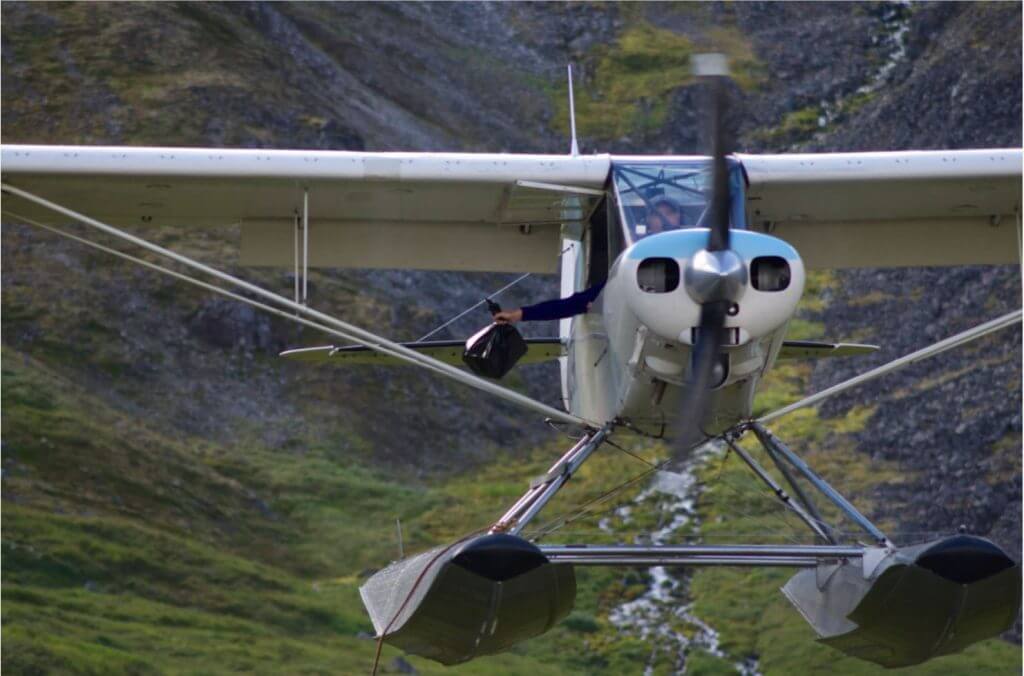 No other adventure company
IN THE WORLD
offers this service!!!!!!!
As the owner of a small business I know how important it is to provide something unique and special for my guests; something above and beyond, something that shows commitment to their success, with a hug. If you throw in, or out, a delicious treat; you've hit a Home Run, Babe Ruth. You have also separated yourself from the competition and created a class of your own!
Midway through your wilderness adventure, early in the morning, the feint drone of a small airplane will be heard intruding on the silent soundscape. This welcome visitor is right on time and delivering warm cinnamon rolls, fresh baked from the Roadhouse ovens in Talkeetna……or he bakes his own!
Billy developed and perfected this courtesy while flying backcountry hikers and adventurers in the 80's. There was little in the way of communication once you were "wild". Progress checks were an important safety feature and a wonderful reconnection with the outside world. Today, we have a multitude of options for communication, but, this extraordinary personal touch, an airdrop to every camp, is unprecedented in the modern world of wilderness adventures. 
Whether you receive fresh baked cinnamon rolls or home-made wild blueberry brownies, every guest is delighted with this extra special gift! 
I see a hundred smiles from my cockpit every summer!
From trip planning to route planning and execution, our priority is for you to gain or improve skills and confidence in relying on yourself; no matter where your wandering may take you. 
Our guided hiking team at Denali Trekking Company is a well-oiled machine.
We make great adventures and great memories!
The biggest benefit you get from Denali Trekking Company is a dozen new friends!
Contact us with your questions – Rapid Response Guaranteed!