Denali Trekking Company has been in continual operation since 1984. Every year we have been in business, we have added quality to our operation. Experience is the key in perfecting your product. The benefits to you, for our two decades of guided hiking experiences, are my guides and I operate a well-oiled machine and our guests enjoy interaction with knowledgeable and savvy outdoor adventure professionals.
Our guests become our friends. Fostering this relationship is our company standard. When you arrive at our home and base of operations, you will feel like you are joining a circle of friends, all preparing for an adventure. Enthusiasm is contagious. Camaraderie develops easily. We share a critically important common thread. We are all advocates for the Alaskan wilderness.
The Alaska wilderness is vast. There is a lot out there to enjoy and a lot to understand. Denali Trekking Company strives to learn, comprehend and develop best-practice techniques for harmonious backcountry traveling in the Alaskan wilderness. These valuable skills, that you will employ on your trip, remain with you for as long as you visit remote areas on the planet. Hands on…. Boots on…. Get It On!
What about the cost?
The quality standards practiced by Denali Trekking Company in every facet of our business makes our hiking adventures an unsurpassed value. From the very first time you contact us, you will be pleased with our prompt and courteous replies. We understand the difficulty in selecting a company for a wilderness adventure in Alaska. There are lots of choices but with no other will you develop as trustworthy a relationship as with the folks at Denali Trekking Company.
This is what separates us from the competition
The areas where we operate our guided trips host the most diverse species of wildlife and wildflowers that you can find in any one location across the entire state of Alaska.
The following safety features are standard practice for Denali Trekking Company: Every camp is equipped with a satellite phone, a ground-to-air radio for communication with aircraft and a cell phone.
Every camp is equipped with a comprehensive First-aid kit. We consulted mountain rescue experienced physicians when designing our kits. Every guide is familiar with the contents of these kits and can modify them to meet any circumstance. Every guide in the field is a certified Wilderness First Responder or similarly trained.
We try to fly over every group in the field at the mid-point of their trip. These early morning visits have become quite the unique treat. Guides communicate any needs or desires to me. I pass on forecasts and weather information, location of Grizzly Bears and other wildlife seen in the area and information important to the safety and success of the adventure. I see a hundred smiles from my cockpit every summer!
Our guest satisfaction is the highest in the industry and it is due in part to these check-up flights.
Our trips are not low budget; however, there are no hidden costs. The price you pay includes your flights into and out of the mountains. Transportation to Talkeetna from Anchorage and overnight accommodations in Talkeetna are very affordable. Be sure when you make comparisons with other companies, you investigate these costs. We definitely check our competition and we are 100% satisfied that you will not find a better deal in North America!
For every type of trip we launch, Denali Trekking Company has developed a Plan B and a Plan C in the event that alternatives must be chosen. If the weather is sour when it comes time to fly out to our primary destination, we can fly to another. If flying is out of the question, we can drive to a trailhead that twists off the road system to offer some great challenges and superb hiking. Living and working in Alaska over the past 36 years and our 25 years in business have allowed us to develop extraordinary itineraries; all geared for the best adventures possible and all include optional scenarios!
Talkeetna has been our home since 1977. The village is easily accessible from Anchorage because of the highway, airport and railroad link to our doorstep. Costs for ground transportation are reasonable and simple to make reservations. There are a wide variety of places to stay in Talkeetna, from fine to funky. The town buzzes with activity all summer and visitors are treated as locals. After your adventure in the mountains there are scenic flights, excellent salmon fishing, rafting adventures and a village waiting to be explored for your enjoyment. I'd be glad to help make arrangements for any side trips.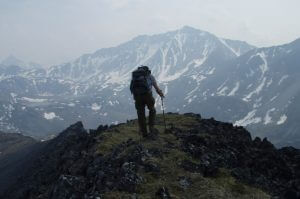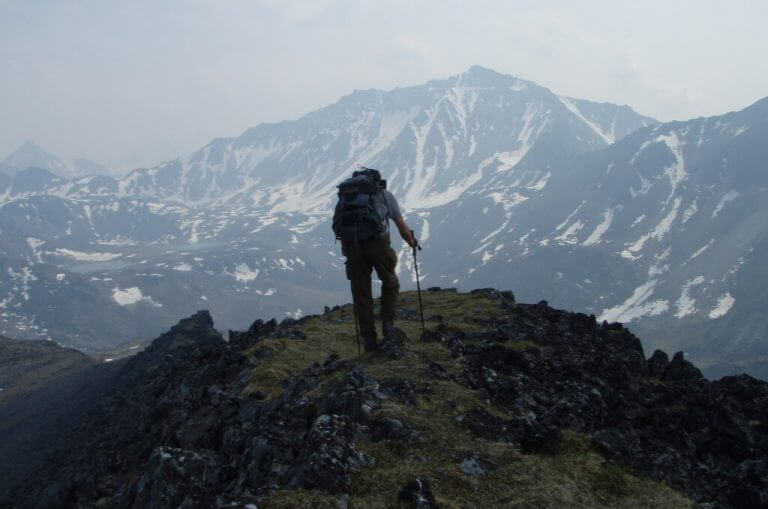 Whether you are a seasoned backpacker or a novice day-hiker, trekking in the Alaska wilderness will present new and unique challenges. By preparing your body correctly and building endurance through exercise, your hiking experience will be greatly enhanced. It is not always easy or convenient, however, discipline in the exercise program that you commit to,
Read More »